Kindness Club Collects Donations for Webark Estates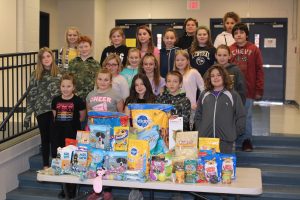 Central Elementary School's newly formed Kindness Club just finished its first community service project.
The group voted to help out their four-legged friends at Webark Estates, the no-kill animal sanctuary dedicated to rescuing and placing homeless pets, by collecting supplies for the shelter. Kindness Club members were responsible for manning the donation box, promoting the event and making posters.
The Kindness Club was established at Central Elementary School after counselor Jenna Dompa heard Moundsville Middle School had started a similar group. The club is open to any 5th grader and meets once a week during recess time. In a short period of time the membership has grown to approximately 50 students.
Future projects include working with Veterans, local nursing homes, food pantries and the freeze shelter.